events

BosTen is your weekly guide to the best and coolest happenings in and around Boston.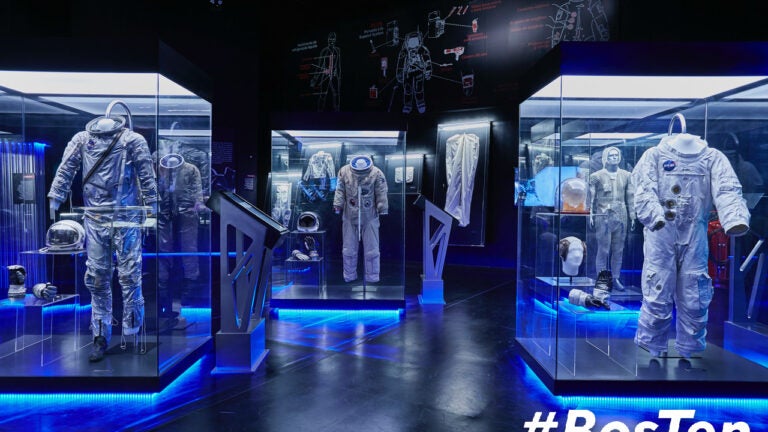 Welcome to BosTen, your weekly guide to the hottest and best Things to do In Boston this weekend. Subscribe to our site Our weekly email newsletter is here. Do you have an idea of ​​what we should cover? Leave us a comment on this article or at BosTen Facebook groupOr email us at [email protected].
The world of Chinese artist Wu Junyong is not a quiet one. The heroes face violent clashes with their enemies. charming animals growl at each other and vie for supremacy; And troubled souls retreat into dark caves in search of inner peace. The exhibition, which opened last week at the Museum of Fine Arts, marks the artist's first appearance in a U.S. museum with more than a dozen mixed-media works on paper. You will be immediately drawn into the playful images created with ample brush strokes and juicy colours. Cheryl Fenton
The Lunar New Year marks a whole new phase for Mei Mei. Set to open in South Boston during the Chinese New Year festival this Saturday, Boston Dumpling Company's new headquarters will combine owner Erin Lee's growing wholesale business, cooking classes, and award-winning American Chinese food in an innovative location. From noon to 6 p.m., you can celebrate Mei Mei's move with dumpling-making demonstrations, tours of the brand-new manufacturing facility—and, of course, plenty of dumplings and Double Awesomes. – Jacqueline Keene
Photographer Daniel Kramer got the opportunity of a lifetime in 1964 – to photograph the man (and sometimes legend) Bob Dylan. Kramer ended up accompanying the folk musician for a year, and his efforts were rated at "Don't Think Twice: Daniel Kramer's Portraits of Bob Dylan, 1964-1965," New exhibit at the Americana Folk Roots Hall of Fame (270 Tremont Street). Gallery rides ($23 for adults, $15 for children) highlight Kramer's natural instinct to point and shoot every unguarded moment. The wide range of often candid photos immortalize Dylan in a way different from his music – Kramer's art captures a year of Dylan as a person. This weekend, allow yourself to witness Dylan's quintessential, bohemian vibe captured by the artist at his side. Don't think twice. – Ariella Weiss
Brought to you by twenty"Mathematics artists and technical mathematicians"Mathemalchemy" from around the world brings mathematics out of the abstract and highlights its ubiquitous presence in our reality. A free art installation located at 808 BU Gallery (808 Commonwealth Street) from January 19th through March 4th, the exhibition is all math and all art, all at once. In the magical world of Mathemalchemy, signs directed us to must-see stops like "Pi Bakery," "Integral Hill," and the many directions to Infinity. The installation plays with words, mathematics, and imagination, as squirrels can serve pastries and octopuses swim in a "knot" bay made of knots. The mathematician may be in a fantasy world, but he urges visitors to notice the "mathematical piece" of shapes, objects, and patterns that are integral to the world around them. This is magic to believe in. The best part? It's everywhere, in plain sight. To RSVP for Friday night reception Or learn more about installation, visit BU Art Initiative website. – Ariella Weiss
You don't want to miss one of Boston's most anticipated Broadway musicals when they hit the stage at Citizens Bank Opera House now through March 12. Tickets are now on sale for "Hamilton" – a hip-hop, jazz, R&B musical based on Ron Chernow's acclaimed biography that pays homage to the story of American revolutionary, statesman, and American Founding Father Alexander Hamilton. Historical figures including Thomas Jefferson, George Washington, Aaron Burr, and the Marquis de Lafayette are all brought to life as the story unfolds in this revolutionary moment in the theater created by American composer and actor Lin-Manuel Miranda that has earned Tony, Grammy and Olivier awards, a Pulitzer Prize for Drama, and a Special Citation. Unprecedented Kennedy Center Honors. Tickets may be hard to come by, however Ham4Ham lottery – which allows you to enter a daily drawing where a lucky few can purchase "Hamilton" tickets ($10) – ready to go. Cheryl Fenton
Before the last rose petal drops, check out this enchanted one Beauty and the beastBoston themed adventure. The theatrical alternate reality is taking over the basement of The Merchant Kitchen & Drinks from now through March 20, turning the restaurant's usual special-event space into a magical — some might say cursed – An iconic fairytale castle. Based on the story by Jean-Marie Leprince de Beaumont Beauty and the beast The Cocktail Experience is a stage show, escape room and dessert bar all in one. For 90 minutes, ticket holders will create themed cocktails, invite them to dance and have fun with the eccentric inhabitants of the mansion, solve puzzles and challenges to lift the curse and escape from the enchanted castle. Tickets include a welcome drink plus two custom-made cocktails, a delicious meal, and an hour and a half of unforgettable glamour. Victorian cocktail dress is encouraged. – Jacqueline Keene
After "Immersive Van Gogh," "Immersive Monet," and "The Immersive Nutcracker," the latest immersive exhibition coming to the Boston area is out of this world. "Space Adventure," a traveling exhibit celebrating humanity's arrival on the moon, will make its U.S. debut in Chelsea from now through February 26 before moving to other North American cities throughout 2023. Guests are drawn to the 35,000-square-foot space (located in 121 Webster Ave.) will be able to see more than 300 NASA artifacts, including many that have not been shown to the general public before. After an introductory video, visitors will travel through the rooms to learn more about the Mercury, Gemini, and Apollo missions of the 1950s, 60s, and 70s. Among the items on display are the control panel and counting clock at the Houston Space Center, as well as computers, astronaut suits, cameras, astronaut food and hygiene products designed for early space exploration missions. – Kevin Slane
The State Department's latest exhibition, "Cy Twombly: Past and Present," is a first in many ways. It is the first Boston exhibition dedicated to the influential painter, sculptor, and photographer who studied at the School of the Museum of Fine Arts at Tufts University. It is also the first gallery to explore the artist's continuing engagement with antiquity, and will display many of Twombly's works never before seen in the United States. It features more than 60 Twombly works, a mixture of paintings, sculptures, drawings, photographs, and prints displayed alongside art Greek, Roman, Egyptian, and Near Eastern from the MFA Collection. – Rhea Jovis
on Saturday and Sunday, Boston Travel & Adventure Fair Hynes Convention Center provides two days of exciting experiences centered around travel. Visitors will discover thousands of vacation options from more than 250 of the best destinations, tour operators and travel providers around the world, as well as meet travel experts to help plan (and even book) their next trip. With Three theaters on EarthGuests will get the latest travel tips and advice during 60 travel seminars, along with the chance to meet travel celebs like Brian Kelly, founder and CEO of The Points Guy and Peter Greenberg, travel editor for CBS News. Visitors also have access to show-only travel savings, trip giveaways, and show-only deals. Cheryl Fenton
Learn to read the signs of nature with Mas Audubon
Wildebeest can be difficult to spot at the end of winter, as many hibernate or head south for the season. To help you become a wildlife expert, Mass Audubon will take on hands-on training Winter family animal tracking trip This Sunday from 10:30 a.m. to noon at the Boston Nature Center and Wildlife Sanctuary. The walk will be mostly outdoors, geared towards kids ages 5 to 12, although there should be plenty of fun for the whole family. Those who want a child-free nature experience can come for a bit to the nature center Morning bird walk 8-10 a.m. Advanced registration required. – Kevin Slane
Do you need weekend plans?
The best events in town, delivered to your inbox
See more events