hPerched in plain sight in central Sydney, inside the Harry Seidler-designed building known as 'The Mushroom', the Commercial Travelers Association (CTA) club has sat unmodernized, unrenovated and unbought for 46 years.
That the building is still standing is surprising enough. That it is still operating in the same guise as it was in 1977 is a miracle in a city that is far more inclined to sell off heritage buildings to highest bidder For luxury apartments or fancy new restaurants – or get rid of them for good.
New South Wales Premier Dominic Perot once wrote in a list of "10 iconic buildings I'd have knocked down" in the Sydney Morning Herald, which included the CTA Club because of its strange UFO-like structure. "Once such a monstrosity is built, it will never go away, because there is always a fan club dedicated to advertising its heritage value," Beroutet added.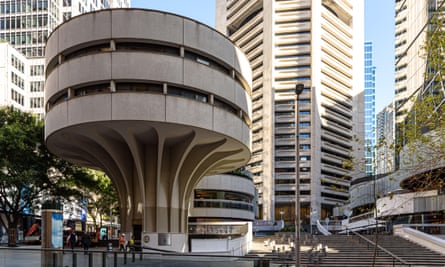 The CTA's fan club may soon include a new crop of Sydney celebrities who won their charms in a bygone era: they've been 'energised' by Sydney Festival to host American artist Kelsey Lu's nightly soundscape in its 28 hotel rooms, as well as a three-week program of bands and DJs in its underground lobby.
Reuse architectural features as places is the theme for this year's Sydney Festival, and it's an exciting one. As I descended the wide, spiral steps of the CTA with my overnight bag, I realized I'd speeded it hundreds of times before, heading somewhere else, but never stopping to stick my head in it.
The place leans heavily on '70s decor: velvet booths, creaky rugs, and walls you'll want to hit. The lounge has been renamed The Weary Traveler, in honor of the CTA's roots as a hotel for traveling salespeople, while the low-ceilinged diner is called The Disco Bistro. Spots of light sweep romantically across pools, vinyl chairs, and plastic-covered menus advertising $16 seafood baskets and $30 steaks. Sadly, that menu has been replaced by slim selections of festival bar food. Think cheese cubes, cocktail onions, and Hawke's Brewing Co. beers; Nostalgia is washed away by nostalgia.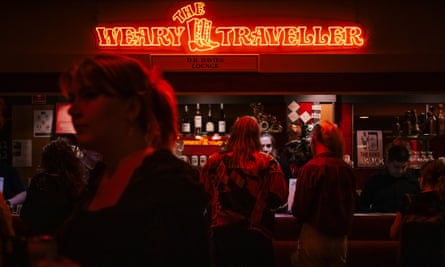 CTA employees work as bartenders, floor personnel, and cleaners. The bar supervisor, John, has been working here for 30 years and told me British-American comedian Bob Hope used to stay there.
"Bob Hook?" I shout out to DJ's efforts. "No bob Hopes!John yelled back. In the 1970s and 1980s, clients were mostly salesmen, he says, but "Martin Place was also a hub for politicians, lawyers, Reserve Bankers…and sometimes a judge or two."
minimum fee for Lu work experience, The Obvious: Dreams' Gateway to Awakening$200 for a single room. Complaining about it being pricey is unwarranted: many Sydney hotels cost twice as much, and here that includes admission to Weary Traveler – which runs until midnight.
But this deal is also where the breakup begins. There is no synergy between the hedonism of the basement tavern, the retro-futuristic aesthetic of the CTA rooms, and Lu's minimalist composition, which "invites audiences on a sonic journey of plunging into a dream state and experiencing the impulses of lucid dreaming". In fact, overstimulation interferes with the aural cleanse you want when you take an eight-hour horizontal sound bath. This is despite Law's intentions for the site to "play with the common idea that architecture speaks not of history but of time and the dreams that lie within it." Playing with common ideas is hard when you're so sleepy.
At first, it's fun. Law's "bespoke vocal object" is a phallus stack surrounded by tassels placed on each room's desk, next to a lace tablecloth. Looks like Cousin Itt in a flapper dress. At 10:30 p.m., it's ethereally transformed into ambient sound, anchored by a hazy pulsating beat.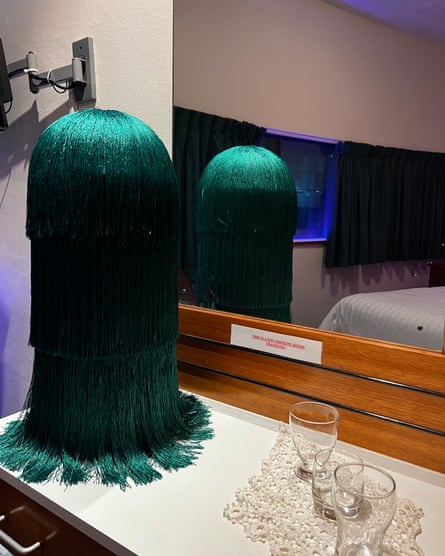 And yet, by 3 a.m., despite a sign stating that the volume was "set by the artist in keeping with the sonic flight," I'm at the back of the hill with my torch, detaching the hairy tassels to fumble around their private parts in search of the volume knob.
In the rooms on the 4th and 5th floors of the hotel some are seeking to make amends as well. The mood lighting works, though the main culprit is the outdated air conditioning units, which beep and buzz all night long. On my way downstairs to pick it up with the concierge, I ran into a couple doing the same thing.
"I thought it was part of it, like the whisper of analog tape," I admit.
"I thought it was solar wind!" the man replies. However, the air conditioning can't be turned down, which likely means the soundscape has been turned on.
All of this makes it very noisy to sleep in. By 6.30am I was done with the interrupted sleep after resorting to earplugs. Back at Bistro Disco for breakfast, refrigerated rooms are a hot topic.
"I hate mechanical noises, so I was there with a towel, trying to muffle it," says one woman. Another claims that "gray noise" interfered with her vocal immersion: "Actually, I thought it was pink noise, and that's when it has a spectrum of lower frequencies." "It wasn't pink noise," her partner said. "It had a lot of high-pitched frequencies. Let's call it aqua?"
Could Lou's experience have been better received in a modern, neutral hotel with white walls and blackout drapes? maybe yes. Do I regret going? not at all. Sydney Festival has made a lot of safe choices in the past and this isn't one. Purists and audiophiles may struggle conceptually and aurally, but it's worth it for the site's sense of excess, risk, and ambition.
Ambition is something these walls know well, and they are scattered as they are in portraits of old white men, dating back to the club's first president, J. Inglis, from 1886. Beside him the mustachioed second president, J. Bowles—whose name, sure, is the spirit animal of the place. .