war in Ukraine. An economy slowing down rapidly, fragmentation and deglobalisation. High cost of living. Climate change. There's a lot for the great and good to get their teeth into this week as Davos resumes after a three-year hiatus.
Strictly speaking, this was not the first gathering of world leaders, businessmen, academics, and civil society since the start of the pandemic, however The World Economic Forum happened last May It was a small affair and not many people attended. It was fine as a dry run, but the real Davos traditionally takes place in January, when the snow is thick on the ground in the Swiss village 1,500 meters high in the Alps. In the past, the mood in Davos swung between wild optimism and unbridled pessimism, depending on the state of the global economy. This year seems sure to be the last. As Klaus Schwab, Founder and CEO of the World Economic Forum put it last week, "economic, environmental, social and geopolitical crises converge and mix." He added that Davos' goal this year is to get rid of the "crisis mentality".
That will be easier said than done. Before there was a "crisis mentality," there was a "Davos mentality," in which the Annual Meetings promoted an inclusive form of globalization, and attendees from around the world worked collaboratively to address transnational problems such as climate change.
But as the stakes to peace, prosperity, and the future of the planet grew, so did the desire to cooperate—the spirit of Davos, as Schwab likes to say. World Economic Forum last week Global Risks Report An annual publication detailing what experts see as the most pressing short- and long-term risks, it was stark in its warning.
"Coordinated collective action is needed before the risks reach a point of no return," she said. "Unless the world begins to cooperate more effectively on climate change mitigation and adaptation, over the next 10 years this will lead to continued global warming and environmental collapse."
The common perception is that the World Economic Forum is a secretive, sinister organization akin to something out of a James Bond novel. In fact, it has no executive power at all, and is akin to a giant global talking shop in which world leaders seize the opportunity to rub shoulders with each other and executives make deals behind closed doors. Bond flies over Davos on his way to Blofeld's mountaintop hideout On Her Majesty's Secret Service But this is as close to an Ian Fleming story as the World Economic Forum has gotten.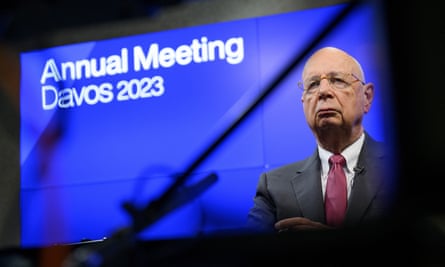 Instead, IGWELs – informal gatherings of global economic leaders, attended by prime ministers, presidents, central bank governors and chief executives – are designed to see if there is a way to come up with global solutions to global problems. In a sense, Davos sets the stage for summits later in the year where real decisions are made.
Some world leaders — Donald Trump, for example — have used Davos to brag about how great things are coming home. Others come to Davos with the intention of garnering support for a global cause, which in the case of Tony Blair in 2005 meant talking about the need for debt relief and more aid for struggling developing countries.
Rishi Sunak won't follow in Blair's footsteps on Monday, though the prime minister will find plenty of soul mates among the tech entrepreneurs and Wall Street bankers who always turn up at Davos in Numbers. It is a frustration for the organizers of the World Economic Forum that the UK government is not using Davos to set its global agenda, but the Prime Minister and Chancellor, Jeremy Hunt, thinks it would not be the greatest of looks to do business with Davos. The global elite while Britain is besieged by the cost of living crisis and strikes.
Instead, the most famous British politicians in Davos will be the Leader of the Opposition, Keir Starmer, and the Shadow Chancellor, Rachel Reeves, who both take the opportunity to show how Labor has become business-friendly.
A lot has happened since A.J. took control Dispute between Trump and climate activist Greta Thunberg. Relations between the United States and China are worse than they were two years ago. The pandemic and its consequences have made countries more wary of exposure to long and complex supply chains. The golden age of globalization in the late 1990s and early 2000s is now a rapidly fading memory.
For all Schwab's talk of breaking the vicious cycle of short-term, self-fulfilling policymaking, the Davos crowd has to grapple with a deglobalizing and increasingly fragile world. In a way, a little soul-searching and humility wouldn't be a bad thing, because for those struggling to survive, there are few things more ad nauseam than self-described Masters of the Universe losing their hands about the need to address inequality.