wThe exterior walls are adorned around SWG3, a multi-purpose arts venue located in a cluster of warehouses near the River Clyde.
This former galvanisers' yard is the site of the annual Yardworks Festival, one of the largest public art projects in Europe, and the center of Glasgow's street art renaissance. The trend is evident on every street corner, from the tourist trails that take in the famous gabled-finish murals of downtown to the intricate calligraphy of individual signs.
The city council is exploring options to create legal walls where young people can develop their work without fear of arrest. Councilors are debating how best to channel the creative energies in an area that, according to the latest available figures, has spent twice as much on removing graffiti as Council Two, Hackney in east London.
James Kling, whose stenciled and spray-painted murals can be found along Midland Street, below Central Station, recalls passers-by pausing to chat to him about the work, some offering to bring him a cup of tea.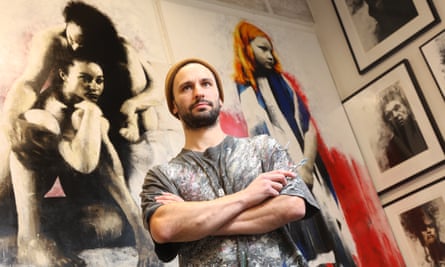 Glasgow has a rich artistic history, and the murals bring that excitement back to the city. People can think of a gallery as a really scary place to go, but anyone who can walk down the street and see this mural in action – this is their art gallery."
SWG Studio Director Gary Mackay points to an abundance of talent across the UK, from Bristol to Manchester, Newcastle and even Glasgow, "working class cities with really strong ethic in art".
Many young people, he says, struggle to afford a formal art education, and risk breaking the law when making their mark on the road, in train cars or bus stops. "They don't go out there to sabotage, they go out to get their name out there, to say I have talent, to try to improve themselves," he says.
The Yardworks Festival and its associated workshops and events throughout the year give passionate youngsters a safer space to experiment with their styles, and the opportunity to learn from working artists. "You usually find out within the first five minutes whether they have talent and whether they have sticking strength," says McKay.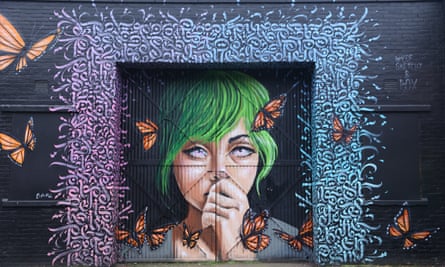 "Of course, any offensive or discriminatory graffiti should be removed immediately," says Lana Reed-McConnell, a member of the Scottish Greens Council who put forward the motion that proposes legal walls across the city in the autumn, as part of an effort to formalize the council's approach to street art.
Fellow Green Christy Mearns, who has supported the movement, adds: "Street art has really transformed many areas of the city, making them more lively and interesting while reducing the costs of cleaning up graffiti.
"It's a positive way to provide opportunities for young people, through commissions, and to expand access to arts and culture for all. Legal walls can certainly reduce the stigma around street art."
Glasgow City Council says it is in the early stages of the project, exploring the legal framework required and identifying suitable council-owned sites for the pilot.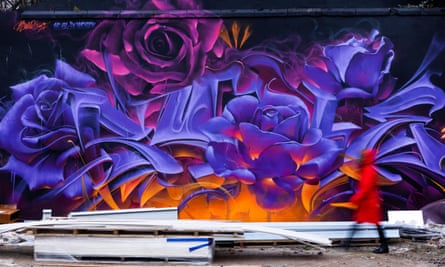 McKay wants the board to be strategic in its thinking. "There needs to be lines drawn in terms of legal spaces and better turning spaces so you don't get one board's worth. I would suggest that every gable end in Glasgow should be done like this: it keeps the communities exciting and keeps visitors coming back. But more importantly It's all about giving artists at the grassroots level a space to carry out their work."
Gable-end murals – such as those depicting St Mungo, Sir Billy Connolly, and woodland animals gazing through peeling paint – that have captured the imagination of many Glasgows, says Mackay, must be seen in context, too. "It can't happen without places like this, and this course to pay £20,000 for a great glossy mural at the gable end – but if you get caught on this course you have every chance of getting a criminal record."
Yardworks is developing its own mural course around Yorkhill, Partick and Govan, with an emphasis on diversity. It includes a colorful Mothers Gardening gable end designed by Molly Hankinson, the first woman to paint a single mural in the city.
Mackay and Klinge point out that the renaissance of street art in Glasgow is widely reflected in its growing influence across the board, particularly in design and advertising.
"Graffiti is a global art movement that has been around since the 1970s," says Kling. "My graffiti artists are branching out into street art, which is the only art movement I can think of that was started by young kids on the street."