VisionThree Inc. Based in Indianapolis, an ambitious effort to harness the power of virtual reality to help solve the state's persistent talent shortage.
Since its founding in 2003, VisionThree has made a name for itself by creating interactive touch screen displays and virtual reality content for clients such as Eli Lilly and Co. , University of Indiana, Rolls-Royce, Raytheon Technologies, Siemens.
Now, she is venturing into new territory with a project she calls V3Connect. The $80 million effort aims to have functional virtual reality laboratories in every high school, community college and university in Indiana by 2025. The project has been in the works since late last year, and organizers plan to roll out a beta in September.
Concept: Companies will pay VisionThree to create customized content that showcases career opportunities in their business and gives a glimpse into the nature of work in selected jobs. Students will access VR content via a career lab in their school, giving them a chance to explore careers and career opportunities they might not have thought of at all.
A big goal certainly – but the project has already attracted support from several partners, including the Indiana Economic Development Corp. and Ivy Tech Community College, which sees great potential in V3Connect.
V3Connect is another tool the country can use in its efforts to build a robust talent pipeline, said Tony Denhart, executive vice president of workforce and talent at IEDC. "We have to make some big, bold moves – and I think that's a big, bold step."
In beta, VisionThree will dispatch a mobile virtual reality functional lab across the state. The lab will display content from a fictional company, Acme Engine, so that VisionThree can gather feedback on what users like and how they interact with the system. VisionThree will also work with a scientist from Vanderbilt University to obtain guidance on developing effective content.
The company plans to start adding customized content from partner companies in October.
Once students wear VR headsets, they will choose areas of interest, and then have an immersive experience based on those interests. A student who loves to interact with people, for example, might learn what it's like to work as a salesperson at Company X. Another who loves hands-on work might get to experience a day in the life of an engineer or technician, stepping into a virtual version of the company's manufacturing space to interact with hardware. Students may learn about opportunities with employers in different parts of the state, depending on their preference for urban or rural living.
"Each user will have their own experience with this," said Heather Jackson, Chief Revenue Officer at VisionThree.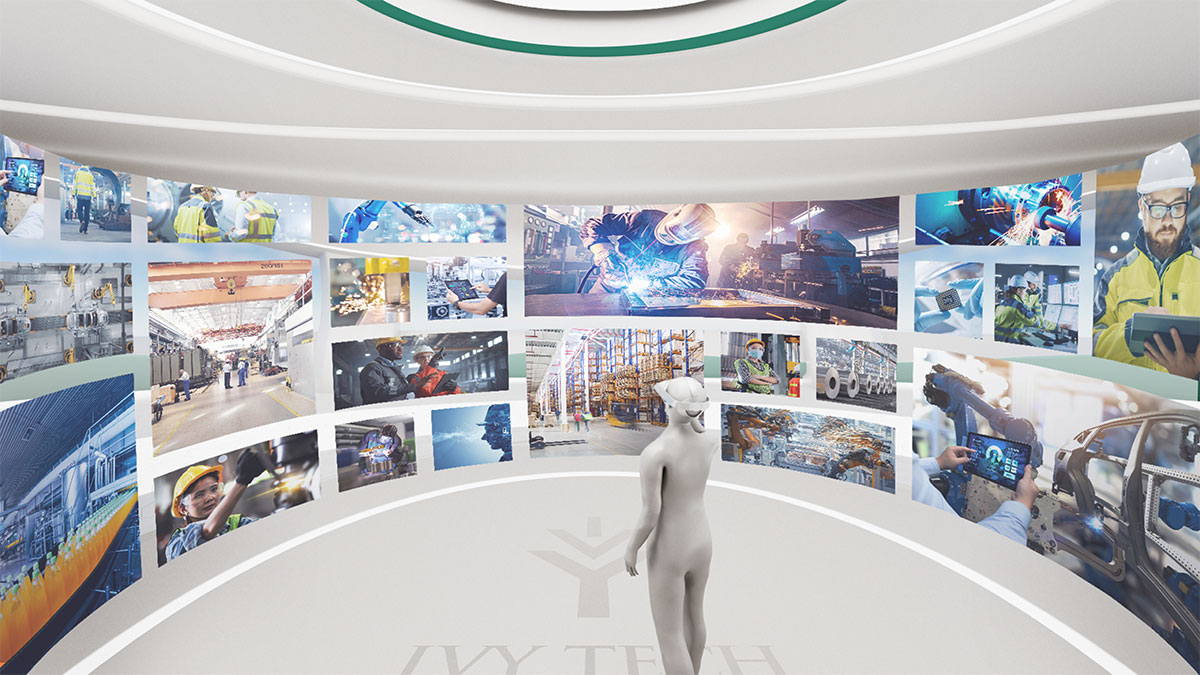 early attention
Jackson said VisionThree has already identified several companies interested in signing up, pending pilot results.
"We have many companies ready and ready," she said, adding that VisionThree's initial goal is to have 15 partner companies registered by the end of the year.
Jackson said the number of companies VisionThree can add over time will be determined by its development capabilities. The 20-person company expects to grow its headcount by about 30% over the next few months, in part to handle the additional work it expects through V3Connect.
The first 15 partner companies will pay a reduced fee of approximately $75,000 to cover their custom content creation costs. Subsequent corporate fees will double to $150,000. Companies will also be required to pay an annual fee to update and update their content, with the fee varying depending on the amount of work required.
Supporters of the project say V3Connect can connect with students in an entirely new way, helping to build the state's talent pipeline — particularly in key areas such as manufacturing, healthcare, logistics and entrepreneurship.
"It's not just an educational tool — it's a direct link to workforce needs," said Carolyn Dodd Higgins, vice president of vocational training and employer communications at Ivy Tech.
Dowd-Higgins said Ivy Tech plans to install a V3Connect functional lab on one of its campuses within six months, although that location has yet to be determined. After measuring the success of this site, Ivy Tech will decide whether to add labs in additional locations.
Dowd-Higgins said she is particularly excited about the capabilities of V3Connect to help current and prospective students. People can come to the career lab to learn about potential career paths, then Ivy Tech can match users with degree or certification programs needed for those careers.
"We think this is an investment that will have a fantastic return on boosting employment and job retention," said Dodd Higgins.
Ivy Tech is working with VisionThree to determine the costs of hosting a V3Connect professional lab, it said — costs that include providing safe space for equipment, lab maintenance and possibly having a dedicated employee to manage the lab.
In an effort to make the program more attractive to schools, VisionThree is working with an outside company to set up customized Internet connections for each lab.
VR applications require a high-speed, reliable internet connection, and having a professional lab on its own system means schools won't sacrifice their other online needs, said Dawn Lang, VisionThree's vice president of strategic partnerships.
If we make it as easy as possible [schools] To use it, they will use it," Lang said.
She said dedicated connections will be especially important for schools in rural areas where high-speed internet is not always available. She said many universities and school districts, including those in rural areas, have already expressed interest in hosting professional labs.
If the school can't afford some of the costs of hosting the lab, Lang said, VisionThree will help it identify grant programs or charitable sources to help defray the costs.

Finance
VisionThree describes V3Connect as an $80 million program. This includes everything from content development to hardware, equipment installation and maintenance, and the cost of Internet connections to operate every location across the state.
Jackson said it expects about half of the $80 million to come from fees paid by partner companies to develop content and annual updates. The other half is expected to come from grants, charitable gifts and other sources that will help both schools and small businesses cover the costs of their participation.
Denhart said the IEDC is likely to provide some level of financial support, though he declined to elaborate. "We are very early in this partnership."
He described V3Connect as a "reimagining of recruiting," which can help break down barriers to career exploration and talent development.
Sometimes, he said, the barrier might just be a misunderstanding or lack of knowledge about what a particular industry or company would look like. Other barriers are geographical. He said virtual reality could wipe out them all.
Denhart gave an example: "It would be hard for someone in southwest Indiana to take a field trip to Warsaw, the bone capital of the world." "this is [virtual reality] He'll take them there."
He said an effort like V3Connect could also help attract companies to Indiana, as it gives them a way to directly reach potential future employees.
Dinhart said companies considering setting up a location in Indiana are putting a heavy emphasis on the state's ability to provide skilled labor, especially now that there is a shortage of skilled talent. "The workforce is the first, middle and last thing they talk about." •