Wilmar and Hutchinson – Hands-on learning is a great way to learn technical skills. When high school teachers needed to advance their skills to make better use of their latest technology, they turned to Ridgewater College for help. Faculty and staff were happy to answer the call with dedicated communications.
"Ridgewater is a community college," said Amy Birkland, Ridgewater Admissions and Outreach Specialist. "We're here as a resource, and we're always looking to collaborate and make meaningful connections with high school students, teachers, and counselors to explore careers, community outreach, and partnerships."
It was really a partnership — a partnership with Steve Homberg, then Director of Outreach for the Minnesota Transportation Center of Excellence, that set the wheel to serve and support high schools in the area.
When new agriculture teacher Cassidy Withoff attended a small-engine Coaching Workshop last summer, she had no idea how helpful a meeting with Coach Homberg would be for her and her students at Buffalo Lakes-Hector-Stewart High School (BLHS).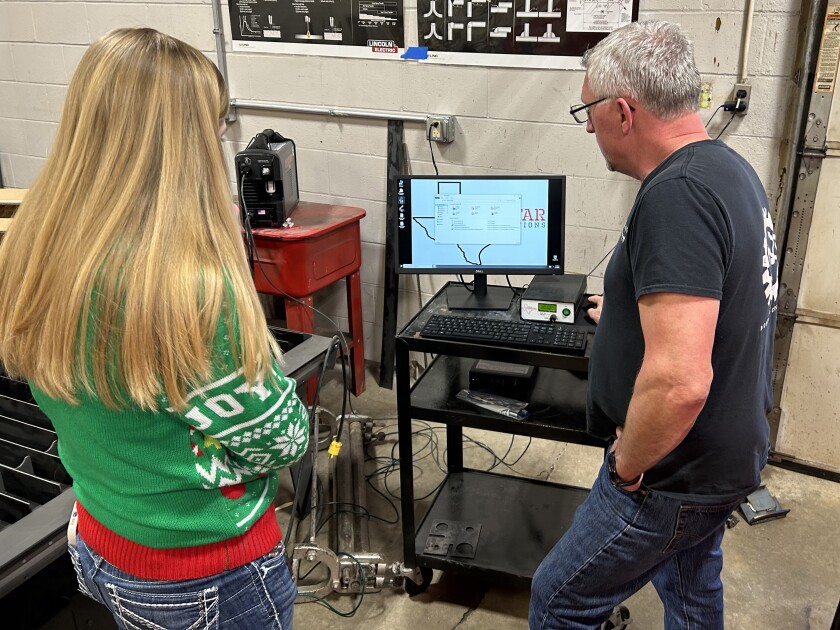 As a new teacher, Wiethoff expressed concern to Homberg about having technical experts visit her classroom. Homberg soon connected Withoff, Birkland, and colleague Judy Parka of the Minnesota Agricultural Center of Excellence known as AgCentric. Together, they explore ways Ridgewater can support BLHS and advocate for Career and Technical Education (CTE) pathways.
Results?
About a dozen Ridgewater technical faculty, support staff, student ambassadors, and Minnesota State outreach partners headed to BLHS on Teacher Acquisition Day for the first time. In addition to assisting the coaches, they have reached out to more than 100 high school students in grades nine through twelve.
About Ridgewater:
Ridgewater College is a community and technical college with campuses in the central Minnesota communities of Willmar and Hutchinson. The college serves more than 5,000 students through nearly 100 academic programs and more than 68,000 training hours for individuals and companies through customized training and continuing education. The college is a member of the state of Minnesota and is accredited by the Higher Learning Commission of the North Central Association of Colleges and Schools.
Minnesota is home to 30 community and technical colleges and seven public universities, serving about 340,000 students. It is the third largest system of two-year colleges and four-year universities in the United States.
"The goal was to do a favor to Cassidy and Gil Grams, who are local CTE instructors," Birkeland explained. "This is Cassidy's first year as a teacher, so our goal was to make sure she felt supported in her new role by letting her know that Ridgewater had the resources to support her classroom. With high schools struggling with bus expenses and a lack of minors, we asked Cassidy, "Can we go outside to you!?"
Wiethoff welcomed the invitation, so five Ridgewater programs took their shows on the road.
"It was a really great day," Witov said. "It was great to see these kids having so much fun learning."
She had one student's welding experience that he didn't want to leave to go to his next class. Another student told Wiethoff that he had improved so much that welding was all he wanted to do now.
"As an undergraduate teacher of technical trades, I am always humbled to step into the environment of our secondary institutions to take in what they have to teach in terms of space, equipment, and resources," said Greg Ryder, Ridgewater Machine Tool Instructor. "Gifted teachers reminded me of the importance of working together, collaborating, and being human."
Ryder taught Wiethoff some basics to engage her students in the school's computer numerical control (CNC) instructors to explore job opportunities in manufacturing, and introduced her to a computer-controlled plasma-powered water table to cut steel sheets into usable shapes and sign work.
Automotive trade instructors Kevin Larrison and Kelly Rowe showed students how the ignition system works in a model car, relating this to the small engines the students were working on in class. They also introduced them to screening tools for diagnosing problems such as abnormalities.
"The virtual reality sketch booth was great — my kids were still talking about it after lunch," said Withoff.
Ridgewater's meat-cutting instructor Sophia Toms spoke with the food science students, sharing details about this new program and the functionality possibilities.
Other ag topics and activities during teacher acquisition included undergraduate stories about how internships connect learning to future careers, the importance of agricultural commodity marketing, generator disassembly, and practices to help people be good stewards of their land and soil.
"The great part of this day is that as students explore different activities, they can relate those experiences to careers for further exploration," said Tammy Howe, Ridgewater Agriculture Coordinator. "There are so many great jobs."
"Having the ability to work directly with the students was important," said Ridgewater Welding Instructor John Travis. The visit helped him realize the daily challenge some high school teachers face trying to absorb so much content in 50-60 minute classes when that time also includes preparation and scrapping. "We have invited teachers to come to Ridgewater so we can continue to build this relationship."
Marshall Training Connection
Marshall High School teacher Michael Braithwaite recently received a Launch Your Future Today (LYFT) grant to purchase two car trainers—one for steering and suspension and one for braking. The problem was integrating them into the classroom.
"Through our partnership with the Minnesota Transportation Centers of Excellence, Steve Homberg made us aware of the coaches and that Michael could use some help learning how to effectively run the coaches with his students," said Birkeland.
After a few discussions Braithwaite came to Ridgewater in December to learn from faculty member John Fritton and brought about 50 students to learn the basics with him.
"Our College of Automotive Service Technology quickly offered assistance when approaching the idea of ​​training both students and instructors," Birkeland said.
"I learned right with the students," Braithwaite said, "but then over lunch the faculty at Ridgewater showed me all the extra activities I could do with the instructors and suggested some tools our school might consider purchasing to enhance the machine learning experience even further."
To broaden the impact of the visit, Birkeland also arranged for the students to explore other areas they were interested in: bodywork collision repair and welding.
Students experimented with a transmission dynamometer, engine check tools, diagnostic equipment, a robotic welder, a welding simulator, and a virtual reality painting system.
"It was really good for all of us," said Braithwaite.
As a current agricultural education teacher, he's excited to use the new instructors and skills in his automotive classes now, but also when his high school opens a new Career and Technical Education (CTE) center next year where he will teach advanced automotive and advanced welding classes.
Reader news submission guidelines:
Entries for Reader News may be sent to: readers@wctrib.com. Each item should include the author's name, mailing address, and contact telephone number, in case there are questions. Images must be high resolution and captioned and cannot come from Facebook. Full names of everyone in photos requested for posting.
window.fbAsyncInit = function() { FB.init({
appId : '1155092205298742',
xfbml : true, version : 'v2.9' }); };
(function(d, s, id){ var js, fjs = d.getElementsByTagName(s)[0]; if (d.getElementById(id)) {return;} js = d.createElement(s); js.id = id; js.src = "https://connect.facebook.net/en_US/sdk.js"; fjs.parentNode.insertBefore(js, fjs); }(document, 'script', 'facebook-jssdk'));