Chicken is the main competitor to red meat and turkey
According to A recent report from the AHDB, as grocery inflation drove value sales and post-pandemic festivities resurfaced. However, volumes were down 1% year over year, even though December was the grocery market's busiest month since the start of the pandemic.
As expected on our site Article Before Christmas, enables shoppers to handle themselves while managing their budgets. They continued to trade from name-brand to private label, while discount sellers (Aldi and Lidl) remained the fastest growing grocery store. Within this, there was still positive performance for the premium brand, while the Men's World Cup boosted the home beer market.

Meat, fish and poultry
Total volumes of meat, fish and poultry (MFP) were largely flat (-0.3%) in December, with total volumes of red meat seeing marginal gains. Given the overall grocery context of -1% volumes, that's a real positive for the category.
Within this, Christmas was largely positive for red meat roasting joints, with lamb, beef and ham growing in volume year-on-year. Pork roasting was the only exception to this, with a decline of 3.4% driven by leg and loin joints, while shoulder joints remained growing.
Pork roast volumes, though, are up nearly 9% compared to 2019, the last "normal" Christmas. Additionally, pork and hamon combined accounted for just under a quarter of roast volumes in December.
Lamb was the standout performer, gaining leg and shoulder joints. Leg roast volumes were up 10.6%, while leg roast volumes were up 3.9%. Leg roast joint gains put volumes ahead of 2019.
The main competitor to red meat and turkey was chicken, with whole chicken volumes up 11.9% year-over-year. This resulted in it accounting for 23% of roasting volumes in December, up 2 percentage points year-on-year. Although the price of whole chicken has increased by 11.0% over this period, it is still less affordable than other proteins, and this increase in volume continues a trend seen in recent months.
With warnings of supply issues in the run-up to Christmas, whole turkey volumes took a big hit, down 13.2%. Crowns and smaller turkey joints saw volumes rise by 4.8%, reversing a trend seen in previous years, as shoppers moved to smaller joints. However, this wasn't enough to offset the entire turkey losses, and overall turkey roasting volumes were down 3.2% compared to 2021 and 20.6% compared to 2019.
With Kantar's measure of grocery inflation at 14.4% in December, prices rose overall. Pork roasts saw the largest overall price increase, related to discount promotions. While lamb roast remains the most expensive meat, it had the smallest average price increase year-over-year. The volume of lamb sold in the promotion increased slightly (by 49%), but it was the depth of the discount that rose and likely entice shoppers into this category.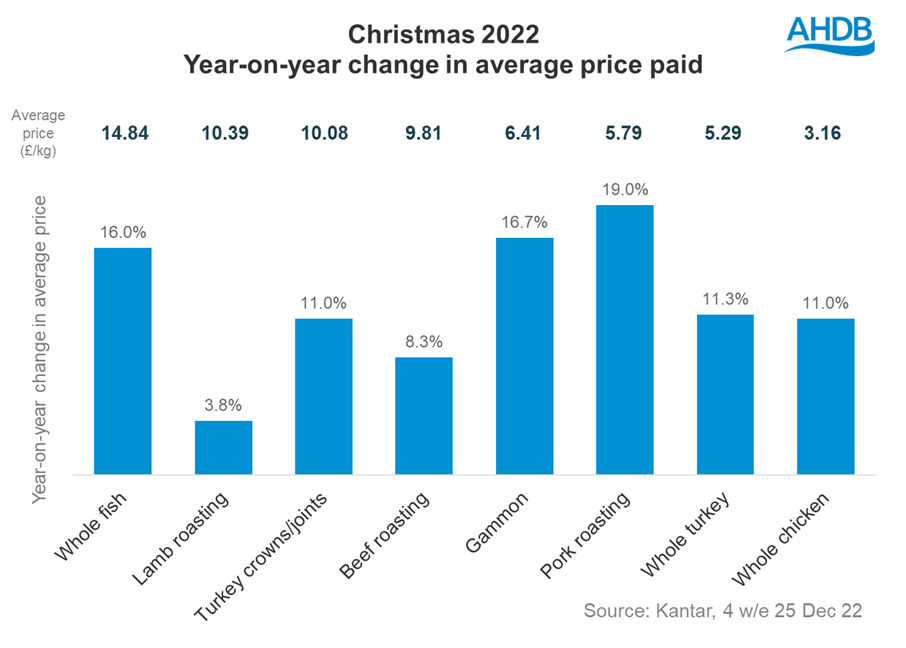 This highlights how promotional activity can be used to entice shoppers to more affordable sales, despite the cost of living background. Before Christmas, lamb in particular was experiencing volume losses. Given that 59% of consumers say their household's financial situation has worsened in recent months (AHDB/YouGov Tracker, November 22), this increase in volume is unlikely to continue into 2023.
dairy
In December, British shoppers spent more than £1.1 billion on retail dairy products. However, in a similar fashion to the overall grocery market, this was driven by higher prices, which were up 24% overall. Overall dairy volumes fell 2.6%.

The strongest performing dairy category was cheese, with volumes down 1.3% year-on-year, but up 12.5% ​​compared to 2019. Varieties that saw growth included light and mature cheddar. However, medium and high ripening losses resulted in losses in the overall volume of cheddar cheese, as well as indicating a level of regression within cheddar itself. Stilton and blue cheeses experienced a 6.0% year-over-year loss, due to lower family penetration, as some are expected to reduce basket size by cutting back on the traditional cheese board option. Combined Regionals lost 5.1% in volume, with only Red Leicester growing (+1.4%).
December accounted for 14% of all cream retail volumes in 2022, and volumes remained 5.7% higher than in 2019. However, there was a year-over-year decline for this category due to the loss of shoppers as well as a decrease in volume purchased per buyer. Flavored, single, and aerosol creams all experienced year-on-year growth, but it was the industrial cream (such as Elmlea) that made the greatest contribution to the cream's overall volume loss. This means cream made from cow's milk outperformed non-cow's milk alternatives in December.