Among the most wonderful words in Don McClean's song about Vincent Van Gogh are those referring to "the faces lined with pain" that are "calmed under the artist's loving hand."
the main points:
The Spirit of SA collection showcases the people, places and things with strong ties to SA
The works will be auctioned to raise $100,000 to support children with cancer
In the foreground is artist Marc Lubert, who volunteered his time to produce 42 works in about 30 weeks
Something of this good spirit is reflected in Marc Lubert's studio in Port Adelaide, where over the past few months an erotic act of artistic altruism has been taking shape.
"We hope we've made SA proud because we're so proud of this group," Lobert said when describing the project.
Painting is hard work, but these portraits and landscapes are meant to ease the pain—specifically, the pain of very sick children.
Collectively, the 42 paintings will make up a gallery of Spirit of SA, depicting the iconic faces, places and symbols of South Australia.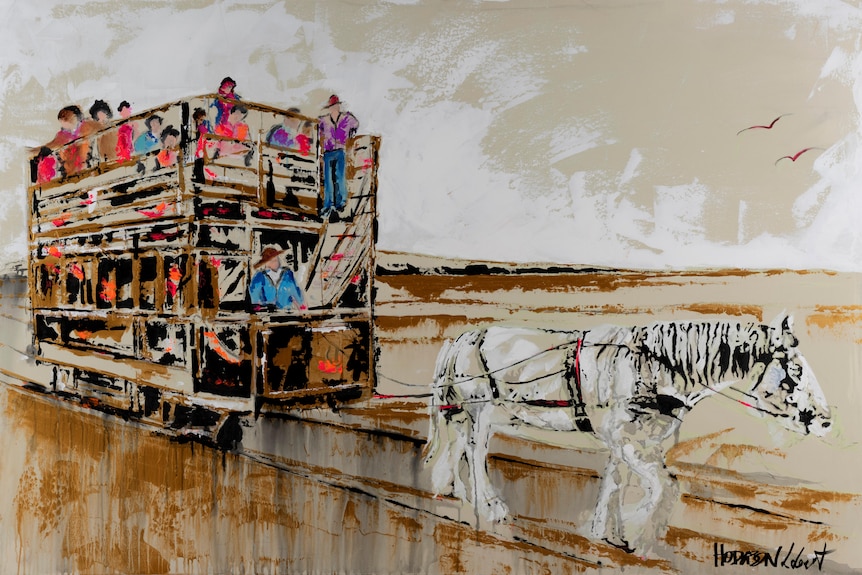 From Monday, it will be on display at Westpac House in Adelaide, and will be auctioned online to raise at least $100,000 for the Children's Cancer Association (CCA), to support children battling the disease.
Topics include rock legend Jimmy Barnes, actress Teresa Palmer, The Hills Hoist, Remarkable Rocks of Kangaroo Island, Chef Maggie Beer and pop singer Guy Sebastian.
There's also ABC's Collinswood Building, AFLW star Chelsea Randall, and former Prime Minister Julia Gillard.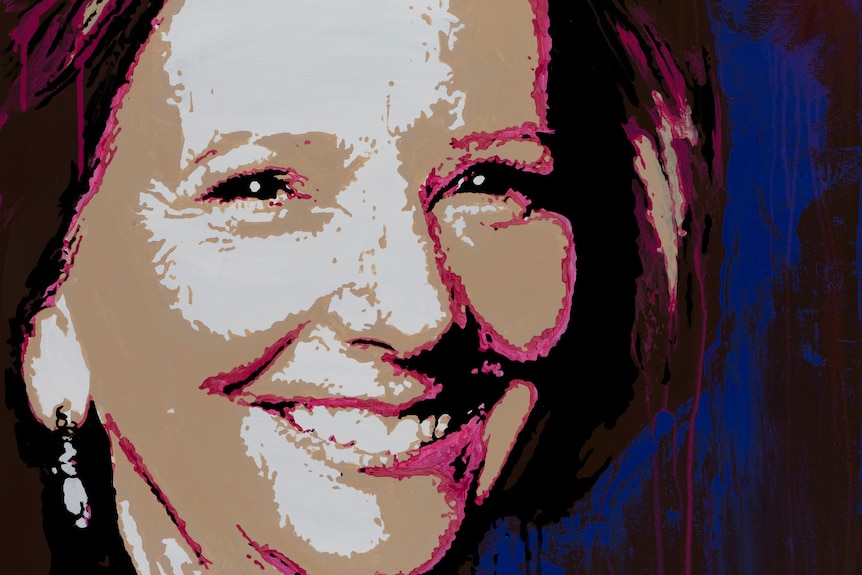 "As a woman who works in politics and in general, she is a wonderful person," Lubert said of Gillard.
The painting by Bernese is linked to the Largs Pier.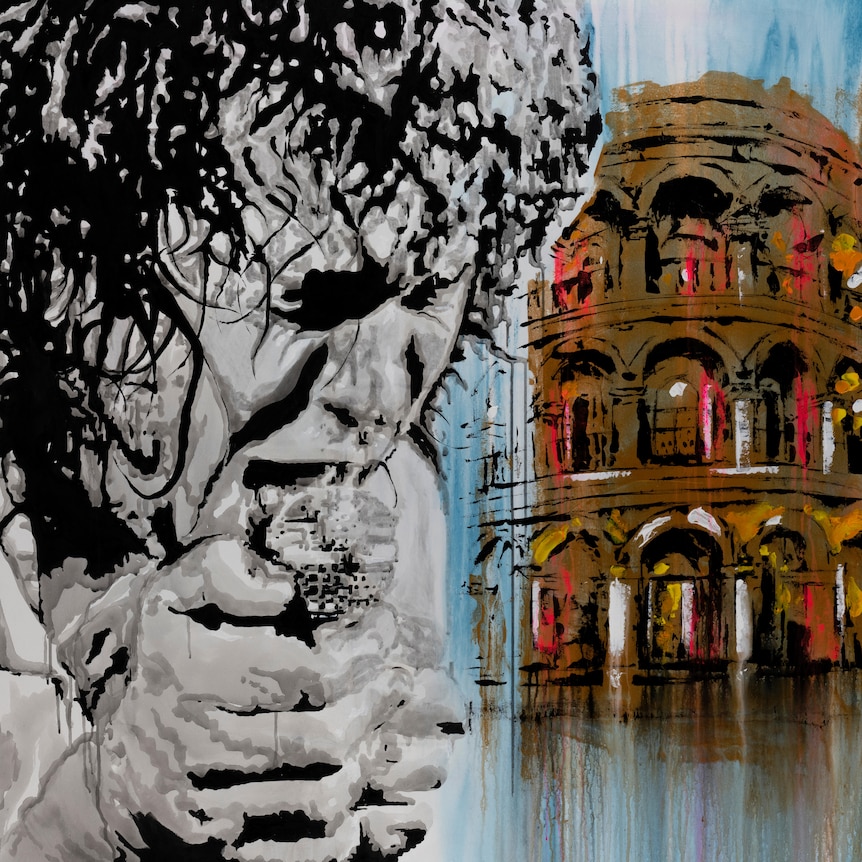 "This picture has to be one of my favourites."
The project developed collaboratively – fellow artist Phil Hodgson worked closely with Lubert, a testament to their commitment to the cause for which they both volunteered their time.
All of them bring different and complementary skills.
Hodgson's talents include the ability to capture human facial features, while Lubert focused on non-human subjects, as well as color schemes and other touches.
42 plates in 30 weeks
In person, Lobert can look a bit like a canvas himself — his arms are impressively inked, and his paint-stained shirt looks like a palette for mixing colors.
His studio is all part of the artist's lair.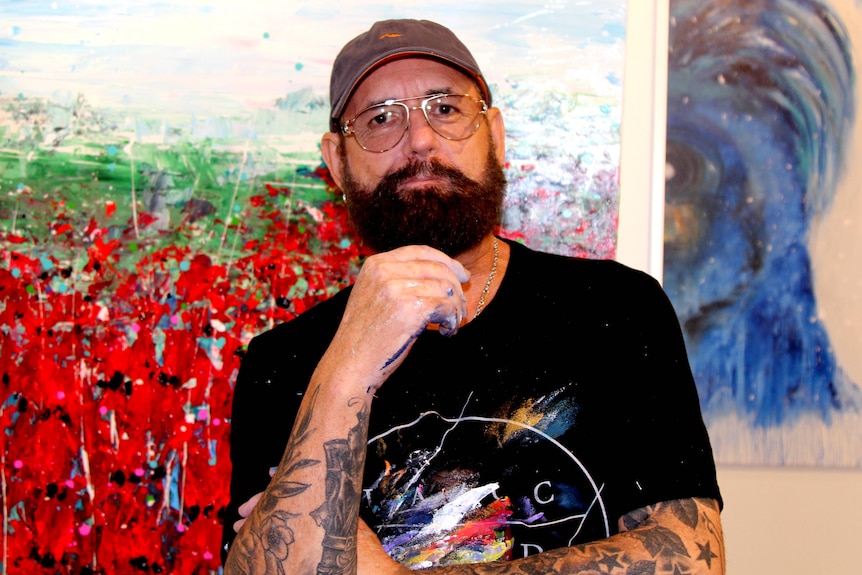 It's stocked with brushes, paint pots, empty canvases and work-in-progress, and its floor is densely covered in specks of pigment that resemble a Jackson Pollock's abstraction.
But the paintings themselves suggest other appropriate eclectic influences.
A carton of Farmers Union Iced Coffee, a box of FruChocs and a selection of frog cakes evoke Andy Warhol's soup cans, while the blue and yellow of an image of the Adelaide skyline evokes Van Gogh's Starry Night.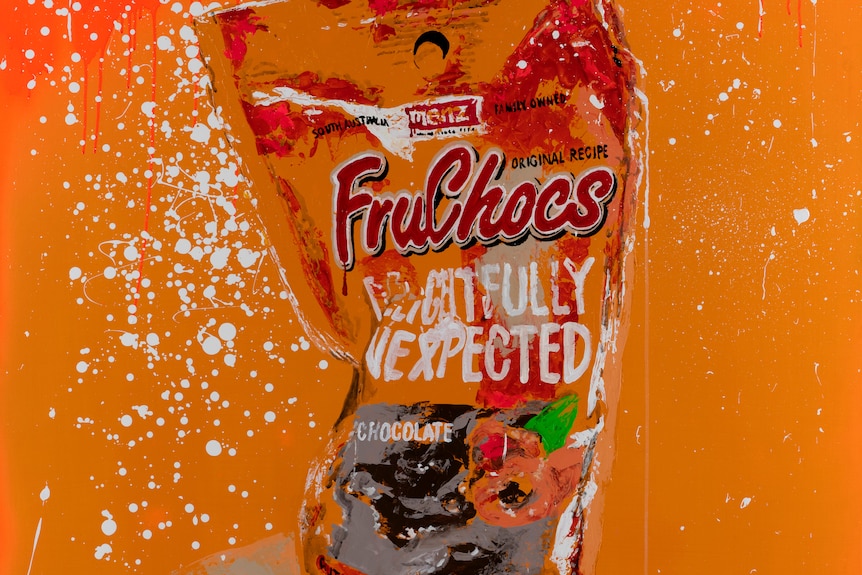 "I'm kind of the color of love, I always try to chase colors – I need the color around me," said Lubert.
Despite that passion, he admits, producing 42 great works in about 30 weeks was a challenge.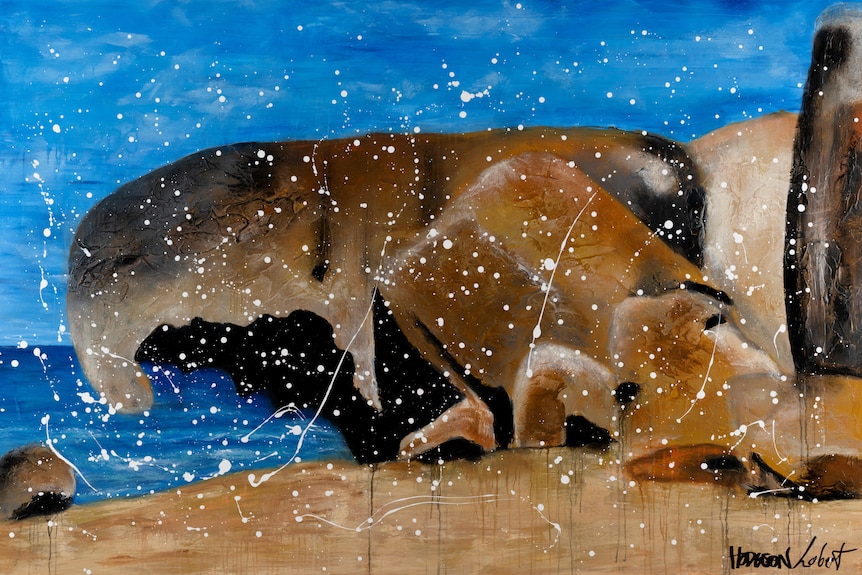 But when he admitted, "I'm not going to lie—it was just too stressful," he spoke with the smile of someone who knew the finish line was in sight.
"They took a lot of time," he said.
"Originally, we would have started around 14 — then we went to 20, 25 went to 30, then boomed to 38 and spread to 42."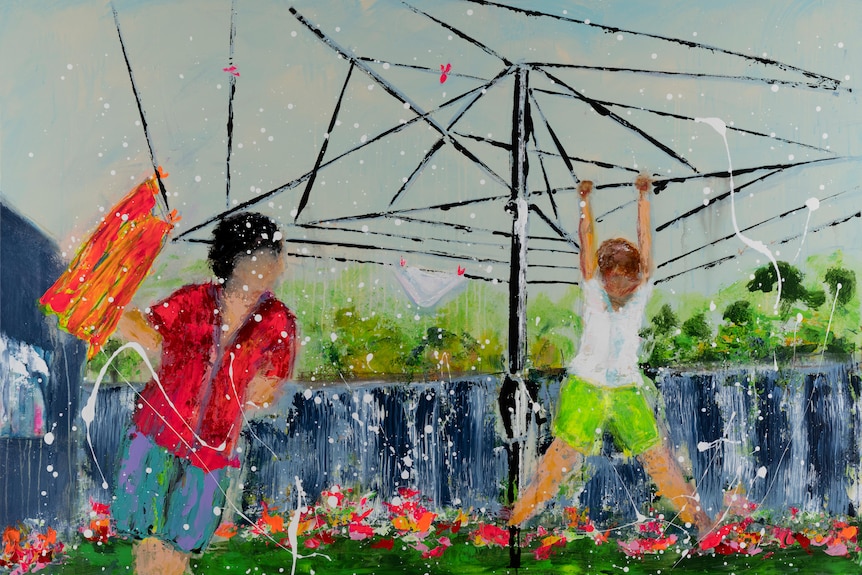 battle of his life
The driving force behind the project was media identity and CCA ambassador Mark Soedström.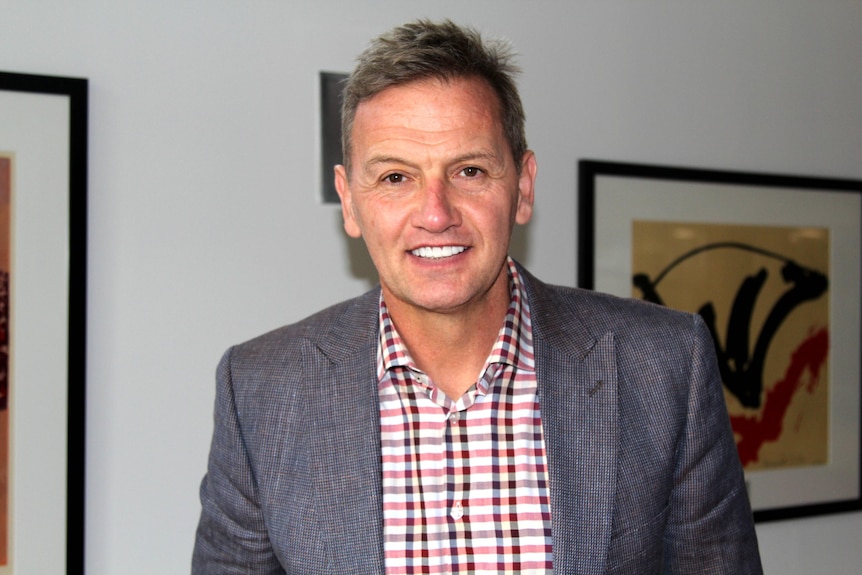 "I thought we should be grateful for where we live, what can we do to raise $70,000 to $100,000?" He said.
"What if we tried to showcase the best part of South Australia, and then auction it off to childhood cancer?
"They need roughly $1.3 million a year to operate and provide their services, so if we can make an impact on that, that would be very impressive."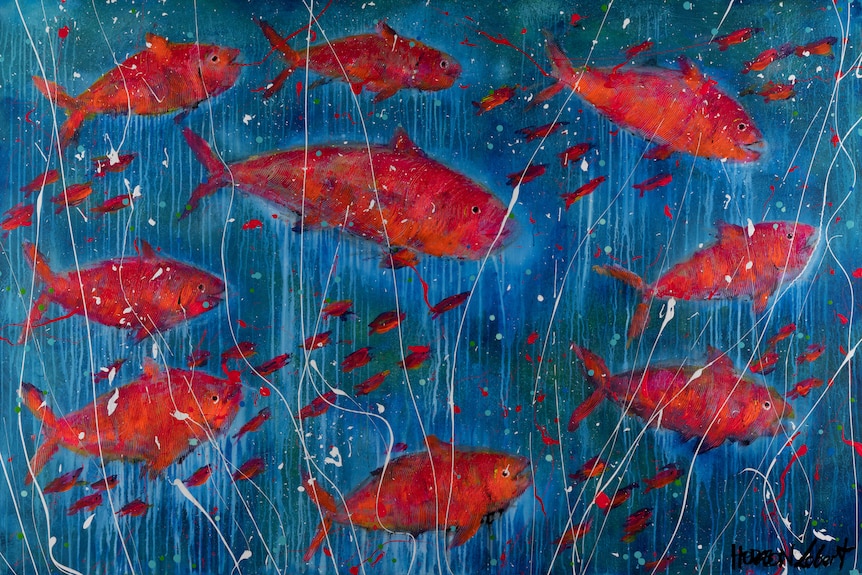 Söderström admits he's not "arty" himself – but he admires the power of art not just to raise money but to provide comfort.
Through CCA, he befriended Lobert.
Their work has brought them into contact with some shocking stories.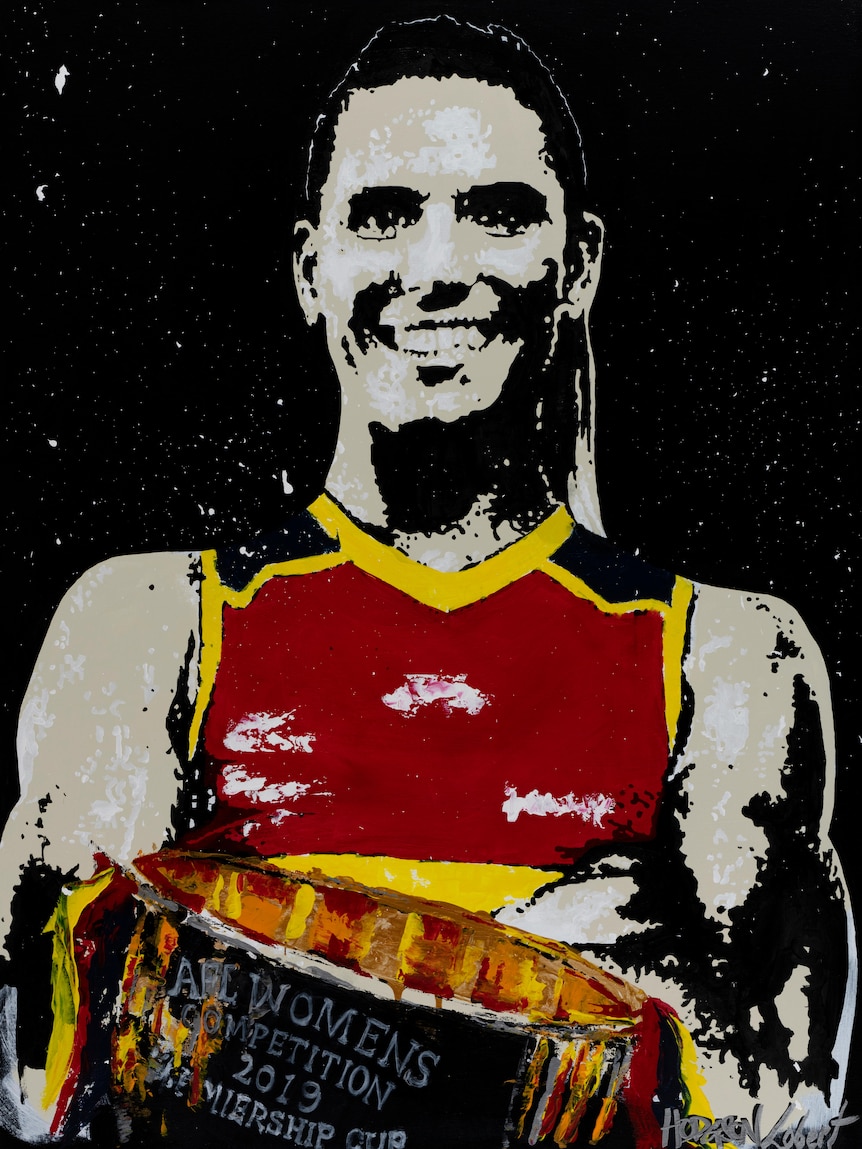 Soedström recalled the case of Jackson, an "incredibly brave little boy" who was in palliative care at the Women's and Children's Hospital.
"He was in the struggle of his life, and his parents called him Iron Man because he was so strong," Soedström said.
Soderstrom asked Lobert to draw a picture of Jaxon's superhero, to go over his hospital bed.
"Every time he woke up, with the time he left, all he could see was Iron Man."
Easing the burden for kids like Jackson is at the heart of SA's ethos.
"Our father died of cancer," Lubert said.
"So whenever I hear about anything [fundraiser] This is about cancer, it will always be a "yes".
"I love being able to give."