When the Buffalo Sabers played their daily game of roulette on Sunday, goalie Ukko-Pekka Luukkonen was sent to Rochester on a "paper deal" to get Peyton Cripps back in the lineup. The assumption was that Craig Anderson was likely to get a crease Monday against the Florida Panthers.
So when coach Don Granato arrived for his usual pre-game briefing on Monday and was asked who the starting goalkeeper would be, he smiled and said, "Wanna guess?"
The combined media could all have been wrong. Granato revealed that the Sabers will return to Lokonen for the third straight game after making 36 saves in Saturday's 5-3 win over Nashville.
There was nothing wrong with the selection, though, as the Sabers lost 4-1 to the Panthers before a disheartened KeyBank Center crowd of 15,251.
Granato made it even more emphatic when asked why he decided to go with Lokonen over Anderson or Eric Comrie.
"He's in a rhythm," Granato said. "Working to rest him, yesterday to reenergize him." "So we're looking at a lot of things we can look at: Can we bring this guy back? During the last little bit, he showed us, 'Well, if (all) three guys are ready, the advantage is now.'" He's in trouble. He was winning matches. So today's decision depends on winning. It's the man."
Since Comrie returned from his knee injury, the Sabers have been crossing their fingers on the goaltending issue. It was the first real acknowledgment of what has become clear to anyone watching: It gives the 23-year-old Lokonen the best chance of winning.
"It's fresh," Granato said. "If I thought he was still (dealing with) coming back from Nashville, traveling, fighting inside that game, and that he needed one more day, we'd give him another day. But the truth is, he's ready.
"This is how we make our decision, with as much information as possible. And with an aim of what gives us the best chance of winning the next game without risking future victories."
Lokonen stopped 30 of 33 shots in the game, scoring Florida's final goal to an empty net. He was 7-1 in his previous eight starts, with road wins in several notable arenas in the NHL.
For the season, he is 10-5-1 and his total wins are tied for third among NHL rookies with Pyotr Kochetkov of Carolina. This is despite his numbers (3.41 goals against average and . 897 save percentage) being relatively pedestrian.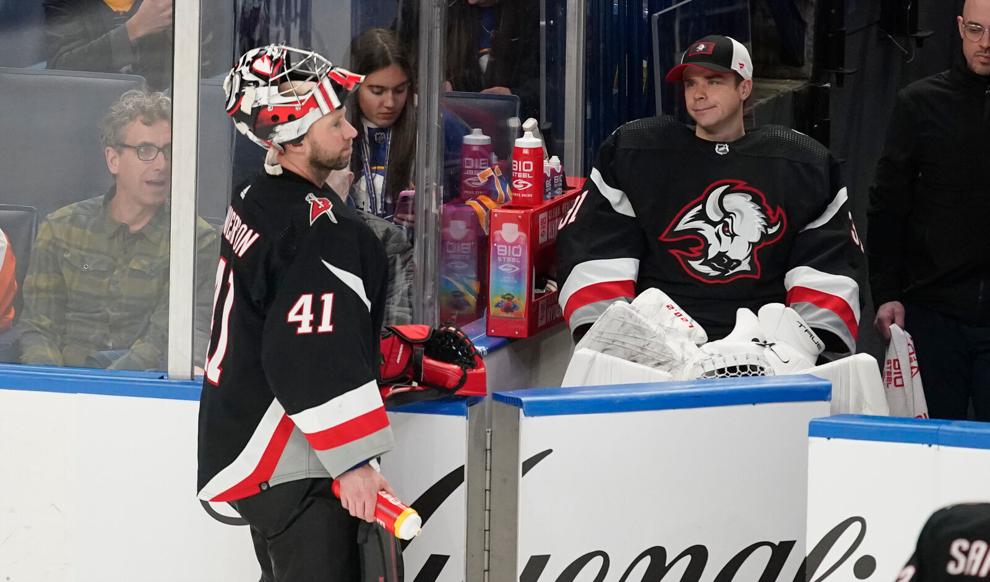 One part of the three-guard system that the Sabers have to monitor is making sure that goaltenders get enough work outside of games. And Anderson, 41, offered some interesting theories about the situation.
None of Monday's goals were Lokonen's fault as he made 27 saves over two innings and Buffalo had a game-changing lead, 34-29.
"It was unbelievable," said winger Alex Tosh, who scored Buffalo's only goal. "It's really good to see him starting to build his confidence. He deserved to win today and we couldn't help him but it helps us to be confident against him."
Lokonen said he was grateful for Granato's endorsement.
"You value that as a goalkeeper," he said. "In the end, that's what you work for so it feels good. But if you earn it, you want to keep it too. You just want to continue where you are, be better and help the team win."
Luukkonen has started 10 of the Sabers' last 15 games and says he welcomes the opportunities he can get.
"It's part of being in the NHL and learning," he said. "It was good. I'm not tired. I'm young and I appreciate the opportunity to play as much as I can and help the team win."
Here are some other notes about the loss:
At halftime of the second half of their schedule, the Sabers fell two points behind the Panthers in the Eastern Conference race, albeit still with three games in hand. The Sabers started the day five points off their last wild card slot, and the two teams with those anchors, the Washington and New York Islanders, met Monday night.
The Panthers have beaten the Sabers six straight times, including two visits to Buffalo this season. They opened the scoring at 4:01 of the first period as former Buffalo player Brandon Montour dribbled to the edge of the crease and beat Tuch to a space puck before jamming in a rebound. This was Montour's eighth goal of the season.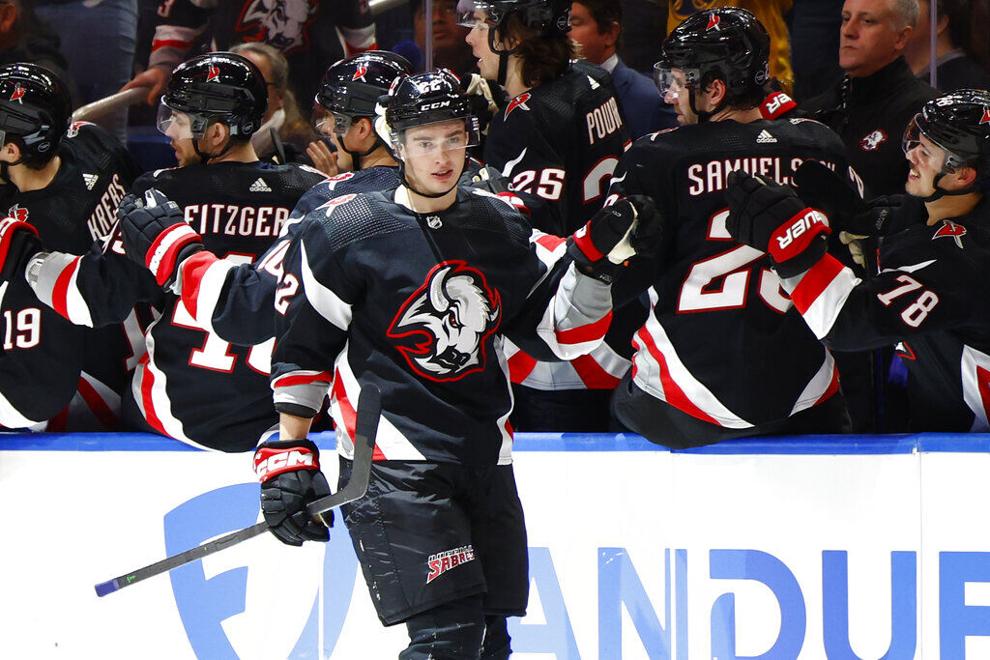 There's no doubt both looked sharper Saturday in the Sabers' 5-3 win over the Predators in Nashville.
Sam Bennett made it 2-0 at 8:04 of the second, pounding home a loose run a few feet in front of Lokonen, and Anton Lundell gave the Panthers more breathing room on a 2-by-1 break just 34 seconds into the game. Third. That goal came from a perfect pass by former Buffalo forward Sam Reinhart.
The Swords again struggled through the no-man's-land and were guilty of trespassing on several occasions.
"We just didn't have the emotional energy," Granato said. "It's two weeks in a row now with really big highs on Saturday night (wins over Minnesota and Nashville) and two days later, we just couldn't get the energy (in losses to Philadelphia and Florida)."
Although Tuch scored, his streak with Tage Thompson and Jeff Skinner suffered from the opening turnaround on Monday. Toch was on the ice on all four of Florida's goals and was minus 3 in the game while Thompson and Skinner were minus 2.
Granato even split the trio in the late stages of the third period, placing Dylan Cousins ​​on the wing with Thompson, Skinner and Touch along with Tyson Jost and Kyle Okposo.
"We weren't in good shape tonight, particularly defensively," Tosh said. "We have to be better, do better games outside our own area. We have to carry on defensively a little bit more, especially if it doesn't happen offensively. We have to help the team win in any way we can and we didn't. I'm not going to do that tonight."
Thompson has a season-high five-game dehydration and is still stuck at 31.
"It's the first time it's been through these guys, for Toch and Thompson," Granato said of the opponents' growing interest. "They're watching every inch and trying not to give you an inch of that ice. A lot of times, you're trying to do more. Trying more doesn't necessarily equate to efficiency."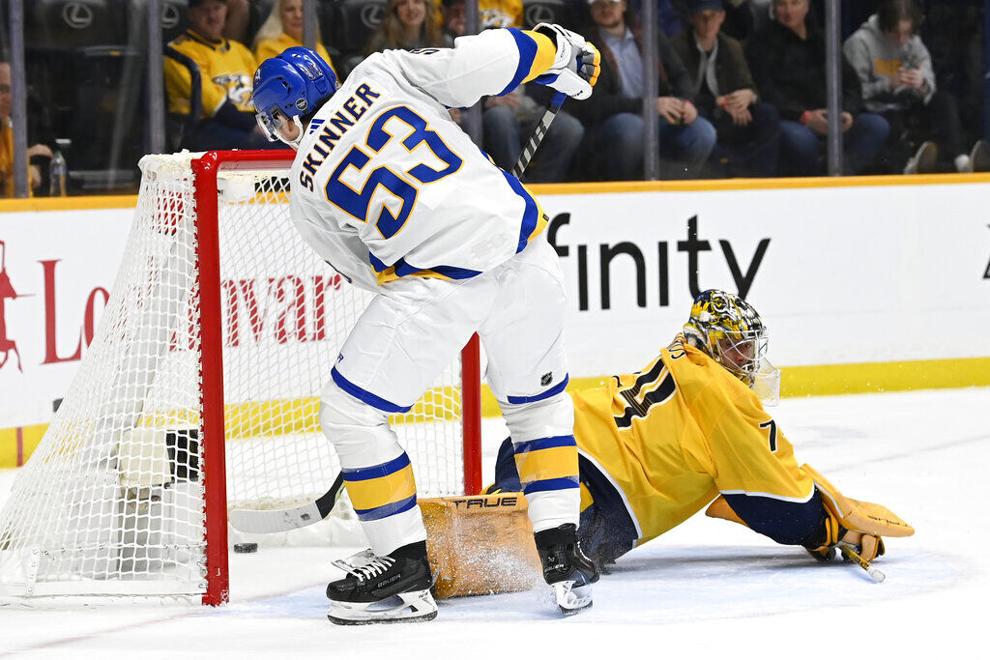 The Sabers silenced the boisterous Bridgestone crowd with a 5-3 victory over the Nashville Predators.
• This is four straight home losses for the Sabers, who are 9-12-2 in downtown but 12-7-0 on the road. Since Thanksgiving, Buffalo is just 4-6-2 in KeyBank and 8-2 in sprinting arenas.
• Zemgus Girgensons is back in Buffalo's lineup after missing Saturday's win in Nashville due to a non-Covid illness. Vinny Hinostroza and Callie Clagg were scrapes.
• Casey Fitzgerald, the former Buffalo and Rochester defenseman who was claimed by the Panthers on waivers from the Sabers last week, was a scratch for the third straight game. He hasn't played yet.
The Sabers hit the sky after the Chicago game, as they will meet the Blackhawks at the United Center on Tuesday night at 8:30. The next home game is Ryan Miller Night on Thursday against the Islanders.