FOur strange children in black roll their big eyes in unison as they sing what you imagine a sad song about death. Wednesday Adams' great-great-great-grandmother (and a few great ones) were on keyboards, playing the virgins, the leader of the group. Her clothes are serious but more ornate than those of her dark brethren. She looks at you in a charged and angry way.
This sharp psychological study of Renaissance adolescence is painted around 1565. Elizabeth I was Queen of England for less than a decade. William Shakespeare had just been born. But before this painting by an artist known as the Master Countess of Warwick, all that time crumbles and you seem to encounter real youth, a group of ruthless teenagers whose turbulent passions are trapped in their stiff silk costumes and set free. in music. Their songbooks reveal that they perform the introspective Sixth Psalm of King David, played to music by Josquin des Prez: "I am tired of being scolded: all night I make my bed swim; I wet my coat with my own tears."
Whoever painted this hypnotic study was much more than just a portrait artist. This is a playful and dramatic work of art. There was clearly a great artist working in England in the 1560s – but they had never signed anything and weren't recognized as existing until Roy Strong's sharp eye in the 1560s spotted a similarity in style in a series of anonymous photographs. This painter has been called Master Countess of Warwick. Now, finally, this unknown star is getting his (or her?) first solo show.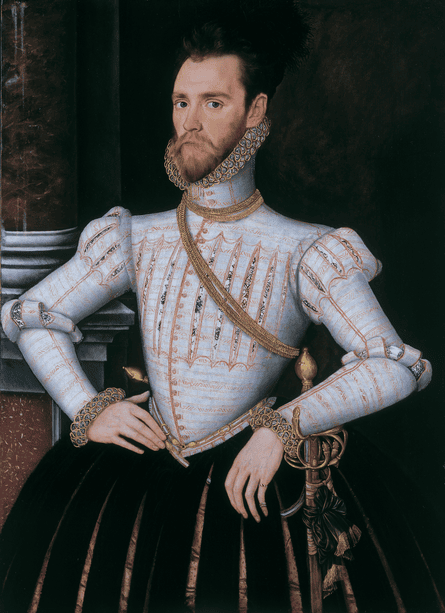 It's not entirely random to throw in the idea of ​​the Countess of Warwick's mistress. Most of the professional artists in the Low Countries in the 16th century, where this obscure artist probably originated from, were men but there were some women too, including the portrait painter Katharina van Heemsen. So, perhaps the "master" is an unnecessary prejudice.
Whoever they are, this artist shows amazing empathy for women, men, kids, teens – even the monkey poop. The gallery is a gem case of Tudor eccentricity, all women and men in tight bodies. Right at the start of the show, you meet Thomas Knyvett of Ashwilthorpe, clad in a luxurious white gown that restricts his upper body in ways that would have been hard to hold in real life: his neck is disciplined by a long tubular collar and a ruff that gnaws at his chin while his waist is forced to taper into nothingness over his trousers. Fluffy dark.
No two fights here are alike. The Countess of Warwick herself, in the painting around which Strong bases his stylistic intuition, has a silk ruff supported by a high black collar and sprouting a pearly headband. Elizabeth Fitzgerald, Countess of Lincoln, wears pink and white candy that seems to be licking her throat like an open oyster. It suits Celtic skin and hair.
Fitzgerald, known as Fair Geraldine after a love poem to her, was an Irish noblewoman who was influential at the court of Elizabeth I. These paintings are all of the high gentry, a social realm in which Elizabeth was a charismatic presence and women might have intimate access to her. William Brooke, 10th Lord Cobham, pictured with his family in 1567, was Warden of the Cinque Ports, but Lady Cobham also wielded authority as one of Elizabeth's ladies of the bedchamber: it's her eyes that draw you in while it seems so respectful to look at an artist.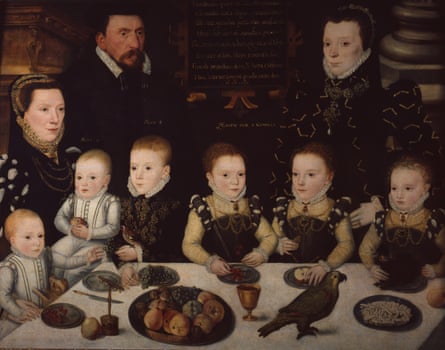 This is another masterpiece that goes beyond portraiture. The artist creates a dazzling and complex moment around a dining table where the couple's six young children are enjoying themselves and playing with their pets. There is a stereotype that pre-modern children were expected to be young adults and were rarely spared. This is confused here. A child holds his apple like a treasure while his brother ignores a pleading dog. An older boy leaves his pet bird safely on his sleeve but the best pet of all is a monkey belonging to one of the girls, who gently stops him from attacking a parrot on the table. Her sisters are eating politely, but this palette is bursting with individuality, not cold conformity. While matching outfits for the little girls and boys emphasize their shared Cobham identity, each face is unique. You have an irresistible sense of personality and personality.
This is true of every painting this student has made of human excellence. It's not just the goblins that stay with you, but the way Thomas Knyvett looks at you with nervous awareness, the melancholy of the Countess of Warwick, and the formidable looks of the young singers.
Sadly, some of the mystery is dissipated by this show's real-life finale. Contemporary documents presented here finally mention the name of the lord of the Countess of Warwick. He was a student of the Flemish painter Hans Yörth. His name was Arnold Derrickson. Yet there is a new name to add to the cultural brilliance of Elizabethan England. Shakespeare, Sidney, Marlowe, Hilliard… Make way for Derrickson.